Discover one of Queensland's most incredible drives, including all the must-see places on a Brisbane to Townsville road trip.
The Pacific Coast Way is the stretch of road that connects the towns and cities along the East Coast of Australia between the Gold Coast and Cairns.
The combination of warm Queensland days mixed with idyllic locations is hard to resist, and why many each year pack up their car or caravan to explore Queensland's coastline. It is also why this stretch of road is one of the most famous drives through the Sunshine State.
The hardest decision when planning your Brisbane to Townsville drive will be choosing the places to visit in Queensland along the way. For this reason, I asked fellow travellers for their recommendations on the best places to stop and things to do between Brisbane and Townsville.
This post may contain affiliate links. Please read the disclaimer for more information.
Featured Image: Picnic Bay, Magnetic Island © Tourism & Events Queensland
---
Plan Your Queensland Road Trip
Brisbane to Townsville Distance: 1,335km (one way)
How: Car or Van
Where: Brisbane to Townsville
Date: All year round
---
What to Expect
On a drive to Townsville from Brisbane, you'll discover sublime beaches, big cities, natural wonders, and seaside havens. To witness more awe-inspiring landscapes, take a detour inland to the Queensland hinterland where the vibrant blues are swapped for lush greens.
Note: The cities and towns along the Pacific Coast Way are big on traveller experiences. To save you money and time I have included in this guide links to all the top-rated tours and things to do through Experience Oz, Viator and GetYourGuide.
---
How Long Do I Need?
When looking at a map, the distance from Brisbane to Townsville by road can be quite deceiving, and this drive is not something you would want to accomplish in a few days. Savour the journey and discover the very best places to go in Queensland.
The below Queensland itinerary was created to offer insights into destinations that are situated along the Queensland coast. A recommendation if you are returning on the same route is to stop at the places you missed when travelling north or travel back through the Queensland outback for an entirely different perspective.
---
Road Trip Queensland – Campervan or Car
If you don't have a form of transportation for this trip, or if you want to experience a taste of the vanning life, you may wish to hire a car or campervan. Being a major city, Brisbane has a vast selection of rental companies.
For car hire Inspire Family Travel recommends East Coast Car Rentals as they are one of the largest and leading independent car hire providers in Australia.
East Coast Car Rentals is a Product Review award-winning company and a brand that is well-trusted by many travellers. We have always had a positive experience using this provider for our travel adventures.
Pro Tip: Always book your car in advance as this is the best way to avoid disappointment, and save you time and money. Find the best deals for East Coast Car Rentals here.
---
Brisbane to Townsville Road Trip Times
To appreciate the size of Queensland, the driving distance from Brisbane to Townsville is 1,335 km and takes approximately 15 hours.
Those figures do not take into account overnight stops, activities, or sightseeing along the way. If you plan to break up the drive by exploring the different destinations I have mentioned below, it is useful to know travel specifics before embarking on a Queensland coast road trip.
I have mapped out the times and distances between each of the recommended places as a guide.
Brisbane to Noosa Heads: 148 km | 2 hrs
Noosa Heads to Tin Can Bay: 81 km | 1 hr
Tin Can Bay to Hervey Bay: 102 km | 1 hr 13 min
Hervey Bay to Bundaberg: 110 km | 1 hr 21 min
Bundaberg to Agnes Waters: 122 km | 1 hr 26min
Agnes Waters to Rockhampton: 225 km | 2 hr 40min
Rockhampton to Yeppoon: 40 km | 35 min
Yeppoon to Mackay: 353 km | 4 hr
Mackay to Airlie Beach: 150 km | 1 hr 50 min
Airlie Beach to Bowen: 79 km | 1 hr
Bowen to Townsville: 203 km | 2 hr 30 min
---
Brisbane to Townsville Map
Map out your adventure along the Pacific Coast Way using the below resource that has been created if you are travelling from Brisbane to Townsville via car.
Click this link to download a quick road trip guide and interactive map. Included in the Google map are highlights of what not to miss at the destinations below.
---
Brisbane to Townsville Itinerary
When starting a road trip from Brisbane, there are many places to visit, and if you have the flexibility of slow travel, you may choose to stop at most of the locations on the list. If you are short on time, use the information below to assist in selecting the destinations that stand out the most, and add the others to your bucket list for a future Queensland driving holiday.
Tip: Always check the road conditions before embarking on your journey.
---
ROAD TRIP BRISBANE TO TOWNSVILLE
Stop 1: Brisbane
Queensland's capital is a vibrant river city with a blend of beautiful heritage buildings and soaring glass skyscrapers. Because of its fabulous weather, life in Brisbane is great for those who love being outdoors. With many enjoyable outdoor activities, from dining in an alfresco café beside the river to walking, kayaking, and cycling, there are plenty of things to do in Brisbane for everyone. Brisbane has an excellent public transport system, and families can either catch a bus or hop on the free CityHopper ferry to quickly get around along the river.
One of the main attractions for kids of all ages is South Bank, which is home to 17 ha of parklands and the impressive Streets Beach, which is a manmade beach with a lagoon where the kids can swim while watching the boats glide past on the Brisbane River.
Tip: One of the iconic landmarks in the South Bank area is The Wheel of Brisbane that offers 360-degree views of the city. Experience a birds-eye view of Brisbane from 60 metres above the ground in an enclosed gondola. Avoid the queue and buy tickets for The Wheel of Brisbane here.
Other attractions for kids in Brisbane are the Lone Pine Koala Sanctuary, where the kids will love hand-feeding kangaroos and other wildlife, and the Museum of Brisbane, where you can ride up to the City Hall Clock Tower. An educational attraction called 'The Cube' will keep junior scientists enthralled too. As these are only some of the fun things to do in Brisbane if you're planning on seeing more of the city plan to stay at least three days.
Stay: If you are planning on staying in Brisbane, find the best family-friendly accommodation deals here.
Contributed by Christina Pfeiffer from Travel 2 Next
Optional Detours: Forming a stunning backdrop to the beaches, the Sunshine Coast Hinterland is worth a visit. Or take a trip to the sandy adventure playground, aka Moreton Island. Read More information on each at the bottom of the article.
---
Stop 2: Noosa
Noosa is a two-hour drive north of Brisbane, and a location where you need at least two days, though you could easily stay for two weeks. It is an upmarket town with its most famous street, Hastings Street, dedicated to upmarket shops and cafes. However, families on a budget should not be put off by this.
There are cheaper places away from the main street, and the beaches here are second-to-none. In fact, there is a stunning beach right in town with beautiful sand and a rocky outcrop off to one side. The beach faces north instead of east, and the orientation and protection help create rolling waves that tend to be safer and more suitable for younger children than many of the main coastal beaches. The surf lifesaving clubhouse is on the main beach, and this is a cheaper option for the family to have a meal out while enjoying stunning views of the coast.
The other main reason to visit is the adjacent Noosa National Park. A paved footpath and easy trails along the rocky shore and throughout the park take you to semi-secluded (though unpatrolled) sandy beaches and ever-changing views. Koalas are often seen here, and the location of the latest sightings are posted at the park office near the entrance, so you have a much better chance of finding them.
Contributed by James Ian from Travel Collecting
---
Stop 3: Rainbow Beach & Tin Can Bay
Rainbow Beach and neighbouring Tin Can Bay are popular spots with travellers of all types. From backpackers living their van life dreams, to young families looking to escape the city, there is a whole host of activities in the area to keep people of all ages entertained and coming back for more.
Geared towards tourists, while still maintaining their small-town feel, if camping isn't your thing, there are plenty of alternative accommodation options available.
If you are going to be camping, however, you need to purchase and ideally display your camping permit at all times. These can be purchased online or at the ranger station as you come into Rainbow Beach.
There is a large free camping area on the Inskip Peninsula, a short drive north from Rainbow Beach. Bear in mind, though that without a 4×4, your choices of pitches are somewhat limited. One area, M.V. Sarawak, is deemed suitable for non-four-wheel vehicles but always exercise caution as the surrounding area is very sandy. The best place to pitch up if you're worried about getting bogged down is at the front of the camping area by the entrance from the road.
The towns are ideal for a relaxing seaside break for the whole family. The beaches are clean, large, and safe. There is an abundance of wildlife, nature walks, water sports, and even golf. Plenty to keep the most active little ones occupied!
The kids will love: The wild dolphin feeding at Barnacles Dolphin Centre in Tin Can Bay
Contributed by Kez Holman from So Today We Found
---
Stop 4: Hervey Bay
The Hervey Bay region on the Queensland Fraser Coast is a 3.5-hour drive north from Brisbane. Known as the gateway to K'gari, aka Fraser Island, its calm waters are a nursery for migrating humpback whales. Ideally, take two days to enjoy the area, longer if you are also planning on visiting Fraser Island.
The popular things to do in Hervey Bay are experiencing an up-close encounter with one of the largest marine animals in the world on a whale-watching cruise (April to November). Take a stroll along Urangan Pier, one of Australia's longest piers (nearly a kilometre into the sea), and also known as one of Hervey Bays top fishing spots. Rent a bike or take a walk on the 17km beachside Esplanade that links Point Vernon to Urangan. Visit the all-natural Reefworld Aquarium that's home to a variety of marine life, or make a splash at the free Wetside Water Park. The ocean here, with little to no waves, is fantastic for kids as well as for swimming, SUP, kayaking, fishing, and sailing.
Hervey Bay is a seaside town with affordable beachfront caravan parks, motels, and self-contained accommodation. There are also many restaurants, cafes, and bars. It is a place to unwind and enjoy a beachside holiday akin to yesteryear.
Tip: As the (unofficial) Whale Watching Capital, it is little surprise that Hervey Bay offers an incredible array of day tours for visitors to experience an encounter with these amazing animals. These highly-rated tours fill quickly, so book them in advance here.
Contributed by Emma from Our Wayfaring Life
---
Stop 5: Fraser Island
A precious jewel in Queensland's crown, World Heritage-listed Fraser Island, is a bucket list destination for any travelling family.
An abundance of wildlife, ancient rainforest, white sandy beaches, crystal clear freshwater lakes, and the elusive dingo is what makes Fraser Island a truly unique holiday destination.
Don't miss:
Eli Creek, for a lazy float down a winding freshwater stream, opening out to shallow water for the kids to splash around and play. The perfect hangout for families to spend the day!
Visit the Champagne Pools for a boardwalk jaunt with stunning panoramic views, before heading down to the bubbly goodness of the pools at high tide.
The most-visited site on Fraser Island would be Lake McKenzie. The striking fresh blue water that's beautifully transparent is like that of a swimming pool. This awe-inspiring inland lake with soft, pure, silica sand will never fail to blow you away!
With vehicle ferry access from both Inskip Point and Hervey Bay, it has never been easier to visit the world's largest protected sand island. Explore the island by 4wd, go camping, or stay at one of the many accommodation options available.
Allow a minimum of 5 days to enjoy all that Fraser Island has to offer. Short on time? Book a day tour, though, be warned; you won't be ready to leave this paradise after one day!
Contributed by Amber Beckwith from Big and Little Adventures
---
Stop 6: Bundaberg
If you're travelling between Brisbane and Townsville, Bundaberg must be on your list of places to stop.
There are so many things to see and do you will need two full days to explore. Firstly, you can go on a tour of the Bundaberg Rum distillery. It is interesting to walk through the museum and then to see the process of making rum. If rum isn't your thing, visit the Bundaberg Brewed Drinks factory, which makes soft drinks. The most famous one is Ginger Beer.
The Botanical Gardens are beautiful, with one of the highlights being the Sugar Cane Railway that takes visitors on a 2km train ride through the gardens. Buy food to feed the lizards and ducks, and stop in at the Hinkler Hall of Aviation within the grounds, which is dedicated to the aviation pioneer Bert Hinkler.
A short drive to Bargara will bring you to the beach and Mon Repos, an area where Loggerhead Turtles lay their eggs. While walking along the trail there, you will see the South Sea Islander Wall, which was built by slaves, and is now protected under the Queensland Heritage Register.
If you still have time in the area, you can visit the Snakes Downunder Reptile Park & Zoo at Childers. The zoo is an excellent place to get up close and personal with several Australian reptiles and animals. It's a great little hands-on place that everyone will enjoy.
Contributed by Beth at Frugal Female Abroad
---
Stop 7: Agnes Waters & Seventeen Seventy
Agnes Waters and 1770 are the perfect locations for a quiet beach getaway where you can escape the bustling crowds of the city and relax with the slower pace of these small seaside towns.
Agnes Waters can be reached by driving 90 min from either Gladstone or Bundaberg, you then travel a further 6.8km towards the end of the peninsular to reach 1770. Agnes Waters has most of the services for the two towns like food stores, medical and emergency services whereas 1770 has little more than a few cafes, a caravan park and an amazing family-friendly beach.
Between the two towns, there is a wide range of water experiences including surf beaches, a well-protected beach that is perfect for young children, a jetty to launch boats, canoe hire, plus a rocky outcrop at the end of the peninsular that is popular with surfers.
There are several easy to intermediate hiking trails including a 1.2km walk through the Joseph Banks Conservation Park, a 400m walk on a paperbark forest boardwalk and a 5.5km walk along the beach from Agnes Waters to the 1770 headland. There is also a Discovery Trail that commemorates the site where Captain Cook made his first landfall in what was to be called Queensland, and the reason this tiny town got its unusual name.
Agnes Waters and Seventeen Seventy are the perfect locations for young families, outdoor enthusiasts and those wanting to slow down; the two towns are the best-kept secret in Queensland.
Contributed by Susan Gan from Thrifty after 50
---
Stop 8: Rockhampton
Whether you're staying a week or a few days, there are lots of things to see and do around Rockhampton, especially for families!
Start with a trip to the free Rockhampton Zoo that's home to a wide range of native and exotic animals, including a family of chimpanzees. While in the area wander the beautiful Rockhampton, Botanic Gardens which are amongst the oldest public gardens in Queensland. The Gardens Tearooms is nestled under the 150-year-old Banyan Fig trees and provide a range of meals and refreshments.
Take a drive up to Mount Archer, which sits at 604mtrs above sea level, providing you with spectacular views of the city and surrounding ranges.
A trip to Rockhampton with the kids isn't complete without visiting Kershaw Gardens. A spacious parkland with walking tracks and play areas, pack a picnic or cook up a BBQ as the kids will not want to leave this impressive family-friendly space.
If you're searching for some adventure, only 30mins north of Rockhampton is the spectacular award-winning Capricorn Caves. With several tours available, there is something for all ages.
Stay: Whether you are travelling with a caravan, tent or require a cabin, the Discovery Parks Rockhampton is a great base. The park includes lots of kid-friendly facilities, and its location in the heart of the town allows for everything at your fingertips.
Contributed by Tom and Aimee Urech-Wright from 4 Boys and a Caravan
Don't miss out on grabbing the free interactive map – a helpful Queensland road trip planner
---
Stop 9: Yeppoon
The coastal town of Yeppoon, with its relaxed vibe and friendly locals, is one of the most popular towns to visit on a Brisbane to Townsville road trip.
The picture-perfect beaches in Yeppoon are a brilliant location to bask in the tropical climate. The gentle waters are perfect for families to frolic or cast a line right off the beach, where you may be lucky to score a fresh catch.
A great family-friendly location in Yeppoon would have to be the Blue Lagoon, which is a free aquatic playground with an infinity-edge pool that looks out to the ocean. Swimming there will feel like you have checked into a 5-star resort, with the additional bonuses of plenty of shade, and lifeguards on duty.
Just a short walk north of this lagoon is the' Keppel Kraken' zero-depth water park, which is fun for the kids and also free!
There are lots of pathways to walk easily along the waterfront and a variety of cafes and boutique shopping.
Just up the road at Emu Park, you can enjoy fish and chips on the grass and view the ANZAC Memorial with the famous Singing Ship Monument (commemorating the area's legacy)
The views are amazing, and when the wind blows, the ship whistles a song through the hidden organ pipes.
Two to three days minimum would be the ideal stay at Yeppoon, as it's also a brilliant hub for a day trip to Great Keppel Island or Byfield National Park.
Stay: Yeppoon is one of the trending destinations to stop for the night (or longer) on a driving holiday from Brisbane. Click here for the best accommodation deals in Yeppoon.
Contributed by Natalie Faulkner from Loved by Natty
---
Stop 10: Great Keppel & Pumpkin Island
Just a short boat ride from Keppel Bay Marina in Yeppoon, you will find Pumpkin Island and Great Keppel Island.
These destinations are where you can experience the beauty of The Southern Great Barrier Reef – one of the seven wonders of the world.
Pumpkin Island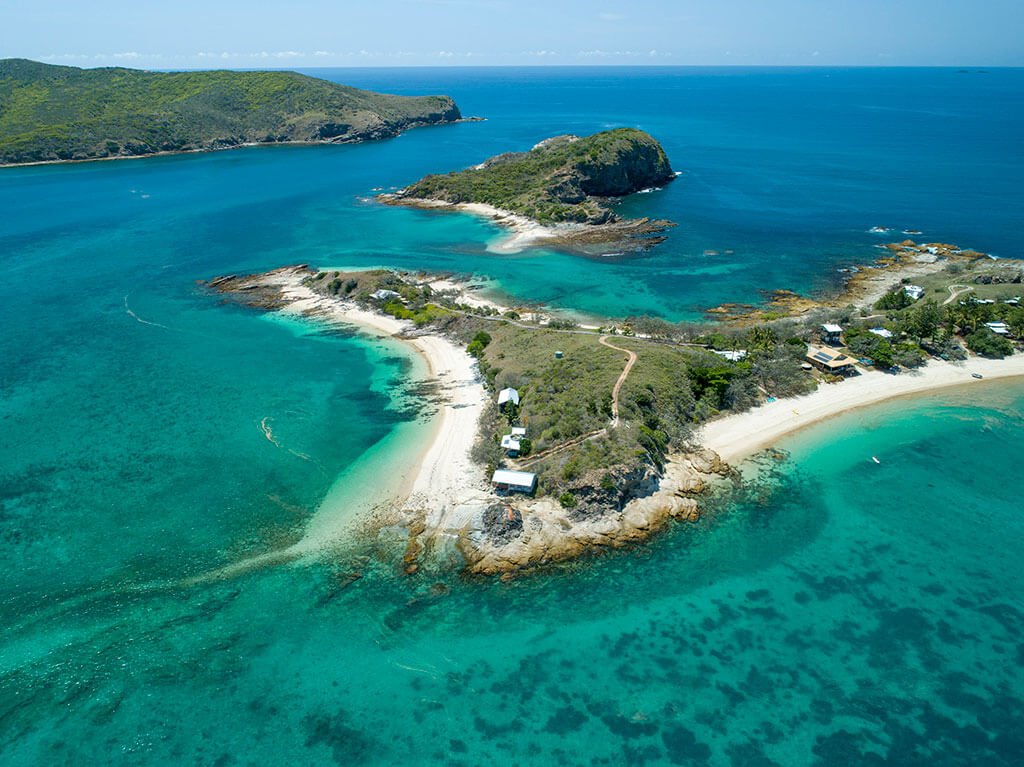 With only seven funky beach cottages to choose from, the island can house a maximum of 34 guests. Powered entirely by the wind and sun, it's Australia's first carbon-positive island resort and offsets 150% of its annual carbon footprint – how cool is that!?
Speaking of footprints, it won't be long before you, and the kids will be barefoot and free settling into island life, swinging on a hammock watching the sunset over the water, catching a fish or cooking a pizza in the pizza oven. This island is self-catering, which is perfect for keeping costs down too.
Great Keppel Island
Not too far from Pumpkin Island, you will find Great Keppel Island – the largest of the eighteen islands in the Keppel Group. 
There are 17 beaches on GKI, all glowing with turquoise water, clean sand and a wonderful array of native flora and fauna. There is a selection of accommodation options all very laid back with simple 'beach shack' vibes making it very budget-friendly.
With a BBQ area and fully equipped kitchen, you can bring your food along for your Keppel holiday or 'splash out' by dining at the fully licensed restaurant and bar. The bar offers three meals a day, and with views to die for and live music, it's the perfect backdrop to relax and enjoy.
The snorkelling on both Pumpkin Island and Great Keppel is amazing, and a must-do when visiting, along with the many water activities like glass bottom boat tour, paddle boarding, kayaking and fishing.
Looking for some road trip hacks with kids? The Blonde Nomads share their top 6 tips in this post.
Contributed by Tracy Morris from The Blonde Nomads
---
Stop 11: Mackay
With lush sub-tropical rainforests, beautiful beaches and idyllic islands on its doorstep, Mackay is a charming city to add to your Queensland bucket list.
This vibrant tropical city with an enviable climate has a plethora of delights to offer visitors year-round. Its proximity to the Great Barrier Reef adds obvious appeal as locals and visitors alike are treated to easily accessible day trips to one of the world's most dreamed-about natural wonders.
Mackay is a haven for kids with the centrally-located Bluewater Lagoon slide and waterpark, and nearby Aqua Park Mackay with giant slides and inflated pontoons – hours of fun guaranteed!
Mackay's city centre recently underwent an uplifting transformation, now gifting its residents and visitors to a unique attraction through its community arts project. From bronze animal sculptures to mosaic tile art and varying plaques dotted throughout the City Heart, the area is an easy place to meander through on a beautiful day.
Spend an afternoon biking or take a stroll along the award-winning Bluewater Trail where you will pass the majestic Botanical Gardens and Sandfly Creek Environmental Walkway. If you'd like to head 40 minutes up the road to Cape Hillsborough Beach, you can get up close and personal with the local kangaroos early most mornings.
Stay: Mackay is one of the cities you will come across on this road trip and is usually a popular base. Find the best accommodation deals for families in Mackay here.
Contributed by Emily Gradon from Tribe Tropical
---
Stop 12: Airlie Beach & The Whitsundays
An essential stop on any Queensland road trip would be Airlie Beach and the Whitsundays. Airlie Beach is a coastal town just south of Townsville and the jumping-off point for the Whitsunday Islands. This relaxed town is the perfect place for a family holiday.
Stay: If you are searching for a central place to stay that is packed full of activities and fun for kids of all ages you can't look past the Big4 Adventure Whitsunday Resort. Highly rated, this holiday park is an adventure wonderland in paradise.
Airlie Beach is an aquatic playground with beautiful beaches and parks for kids. In the heart of Airlie Beach, located oceanside is the free Airlie Beach Lagoon. The ideal place for kids to play and parents to relax on the surrounding grassy knolls.
One of the best things you can do while staying at Airlie is to take a day trip to the beautiful Whitehaven Beach with Ocean Rafting to visit some of the best snorkelling spots and step foot on one of the world's most pristine beaches. For a once in a lifetime experience, add a helicopter flight over the World Heritage-listed area to your itinerary.
Airlie Beach is also close to the Great Barrier Reef. Numerous sailing tours travel to the reef daily where you have the option of swimming, snorkelling, and diving in this extraordinary Australian landmark.
Whether you are searching for a place to relax or an incredible experience at the Whitsunday Islands, this coastal town can offer both.
Tip: One of the most loved Queensland towns due to its proximity to the Great Barrier Reef and Whitsundays, Airlie Beach has an incredible collection of day tours for visitors to experience beautiful turquoise waters, stunning beaches, and vibrant marine life. These highly-rated tours fill quickly, so book them in advance here!
Contributed by Nicole from Nicole LaBarge Travel Blog
---
Stop 13: Bowen
Located between Airlie Beach and Townsville, Bowen is one of the oldest towns in Queensland. It's mostly famous for being Australia's mango capital!
The Bowen Mango is the most popular variety of mango in Australia, which is why you will find loads of farms in the area.
As you may know, Australia has a thing for all things big, and Bowen is no exception! If you head to the visitor centre, you will discover the Big Mango! This 10-metre high sculpture is Bowen's most Instagrammable spot!
If you love beaches, you will be spoilt for choices! Horseshoe Bay, Queens Beach and Rose Bay are perfect for relaxing and snorkelling. If you don't have time to go diving and snorkelling, you won't miss out as you can see beautiful corals from the beach. Bowen is the more affordable option compared to the Whitsundays or anywhere else on the Great Barrier Reef.
Finally, Bowen is a great place to discover the history of Queensland. The Bowen Museum will tell you everything you need to know about the first settlements and how the town became what it is today. At the same time, the murals in the town centre depict Bowen's history through paintings.
Visitors often overlook Bowen, but with fewer crowds, it is the perfect place to get the best of both worlds: outdoor and culture!
Contributed by Pauline Vergnet from Bee Loved City
---
Stop 14: Magnetic Island
Be careful when you travel to Magnetic Island, because once you visit this magical place, just twenty minutes off the coast of Townsville, you may never want to leave. Magnetic Island – affectionately known as Maggie to locals – lies in Australia's Great Barrier Reef. Its unique geology of huge granite boulders, hoop pines, palms and its families of rock wallabies and koalas will have you spellbound
There are 23 beaches to choose from here – our favourite is Alma for its glass-like surface, rock pools, play area, BBQs and snorkelling. It's also the one beach on the island that's patrolled, and it is just across the road from the Arcadia Hotel, which has excellent food, drink and Queensland-Esque fun like toad races every Wednesday night (with proceeds going to the lifesaving club).
Other beaches can be reached by car, foot, and boat – be careful to check if you're heading to one of the islands two nudie beaches.
Hiking is a fabulous way to see the island, and there are 26 kilometres of tracks for you to explore. The Forts Walk takes you to a World War 2 lookout and has lots of koalas in the trees along the way. Hawkings Point Walk offers beautiful views over Picnic Bay and across Rocky Bay to Nelly Bay, and for the more adventurous the Nelly Bay to Arcadia Track's views are as rewarding as it is challenging.
Three days here would be a minimum to enjoy the island's beaches, bays, hiking and restaurants, but you may find you need more as you relax into the island's relaxed pace and fall in love with its magic.
Tip: For an incredible year-round experience on Magnetic Island, the Aquascene Magnetic Island Discovery Tour is a highly-rated cruise for visitors who want to experience the magic of Magnetic Island above and under the water. Read the reviews and find tickets here.
Contributed by Evie Farrell from Mumpack Travel
---
Stop 15: Townsville
Townsville is the gateway to the wet tropics, Queensland outback, and where we end this Queensland road trip guide. But the fun doesn't have to stop here!
The road north towards Cairns leads into tropical and far north Queensland. On a North QLD road trip, expect to find more coastal towns, picturesque scenery, historical landmarks, incredible wildlife, and the only place on earth where two World Heritage-listed sites can be found side by side.
But for now, if you are interested in exploring the largest tropical town in Australia, Townsville's beachfront promenade that stretches for over 2kms is a brilliant place to soak up the sunshine. Take the kids for some family fun at the free Strand Water Park, or pack the rods and cast a line right off the pier.
To exert a little more energy, take one of the many walking trails to Townsville's iconic feature – Castle Hill. A prominent landmark standing at 286 metres the pink granite monolith stands over the Townsville skyline providing incredible 360-degree views from the summit.
Take a day trip to Magnetic Island, see native Australian animals at the Billabong Sanctuary, enjoy a stroll through any one of the four beautiful gardens, or visit the Museum of Tropical Queensland for some history and interactive exhibits. There are many things to do in Townsville for families. Are you planning on staying in Townsville?
Stay: Townsville is a popular place to stay, particularly if you are extending your journey on a Brisbane to Cairns road trip. Find the best accommodation options for Townsville here.
---
I hope you enjoyed the above road trip guide! If you need further assistance with planning your Queensland holiday, make sure to check out our other articles as well. Below are some of our travel guides that may help.
---
Do you have any unanswered questions? Let me know in the comments below!
---
---
---
Follow my blog with Bloglovin